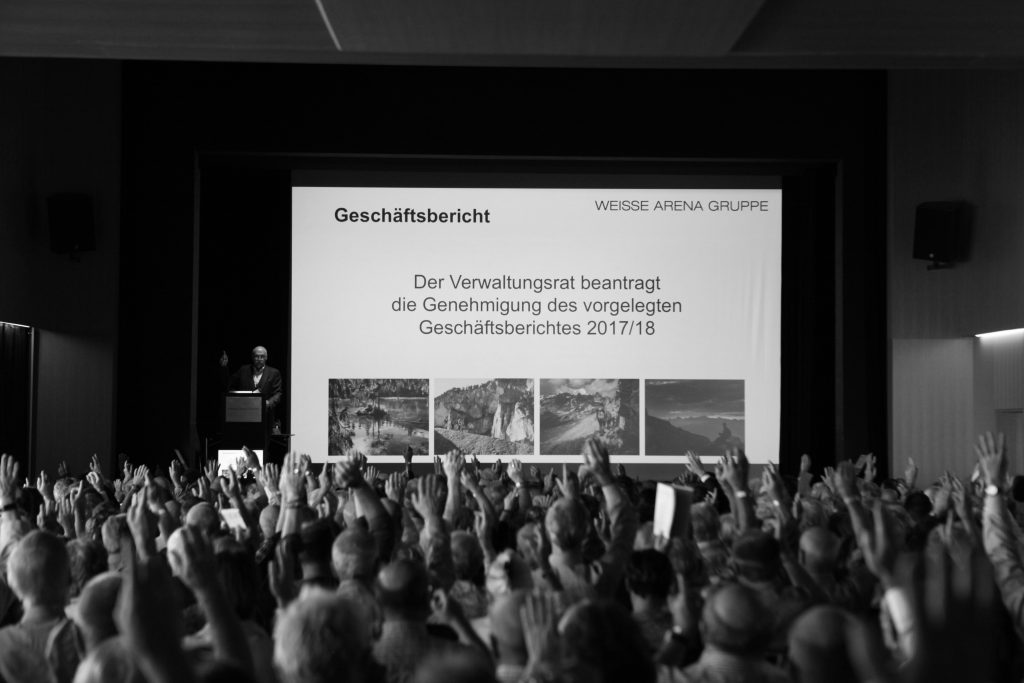 On 13 September 2018, the General Meeting of the Weissen Arena Gruppe took place at La Fermata in Falera. With a total of 506 shareholders, 78% of all shareholders were present – more than ever before! Adrian Wolf, responsible for finances at the Weissen Arena Gruppe, presented the figures of a successful business year. This was followed by a presentation by Reto Gurtner, Chairman of the Board of Directors and Chief Executive Officer, about the history, the present and the future of a company that has always wanted more!
The 2017/2018 business year was successfully concluded. The frequencies on the mountain – summer and winter – as well as at Lake Cauma could be increased once again. Net sales amounted to 86.4 million Swiss francs, which is 1.2 per cent more than in 2016/17. At 21.1 million Swiss francs, cash flow was five per cent below the previous year's level, but is considered positive in relation to sales (24.5 per cent). The group's net profit was 2.1 million Swiss francs compared to 4.5 million in the previous year. The balance sheet profit of 20 million Swiss francs will be carried forward in accordance with the shareholders' resolution; 2.2 million will be distributed from reserves.
Reto Gurtner explained several plans of the Weissen Arena Gruppe in his speech. One of them was the first stage of the connection to the Cassons. An orientation of the municipality of Flims is scheduled for autumn and a vote could be taken in spring 2019. If this procedure can be followed, it is conceivable, according to Gurtner, that the railway will be in place by 2021. He also explained a possible connection from the Vorab Glacier directly to Elm in only 35 minutes. For this, however, the connection from Laax to the Vorab Glacier should also be renewed and the new route should be realised directly over the Crap Masegn. Falera could also get a new lift: The plan is to relocate the valley station to the current car park and build a 10-seater gondola lift.