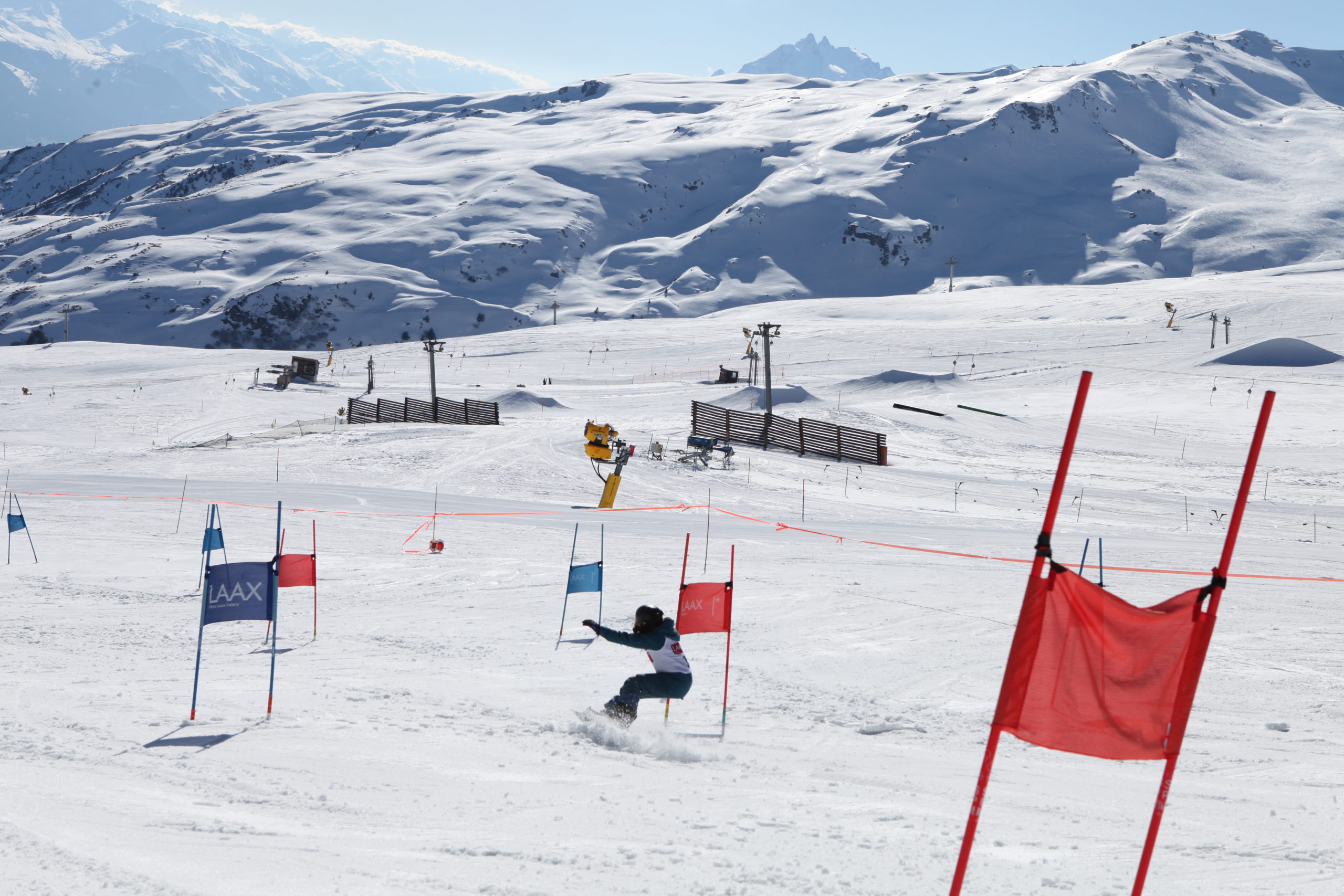 Sunny weather, lots of fun and good atmosphere – that perfectly sums up the 30th ski and snowboard race for employees. On Tuesday, 4 April 2023, the legendary race at Crap Sogn Gion was held in perfect conditions. The event was followed by a delicious dinner at GALAAXY. The traditional party counts as end-of-season party and was once again a successful event.
128 employees lined up with their skis and snowboards at the starting gates at Crap Sogn Gion. Snowsports instructors from the LAAX School, employees from the mountain railways, the catering and hotel industry as well as from many other areas took part in the race. They did their best in teams of 4 and competed against each other in the parallel slalom. Those who didn't take part in the race themselves joined in the fun and enjoyed the evening sun with good music and drinks.
Race format with lots of excitement
The format of the ski and snowboard race is legendary and extremely popular within WAG: four parallel slaloms are set out next to each other on the piste from Crap Sogn Gion in the direction of Alp Dado. The LAAX School Team led by Hampi Casutt and many volunteers are responsible for ensuring that the races run smoothly. When the start numbers are handed out, all participants are divided into groups of four. It doesn't matter what kind of snow sports equipment you use: skis, snowboard or telemark skis. Each group is fairly mixed with different levels.
This year 32 teams took part. The starting signal was given at 5 p.m. and the first four plunged towards Alp Dado with a lot of speed. As soon as the first team member reached the finish, the second team member started and so on. The best teams advanced round by round until at the end only the last four teams were fighting for the podium places. In the end, the winners were four participants who prevailed with a lot of female power.
Dinner and cosy get-together
After the race, all employees enjoyed a fine dinner at the GALAAXY. Around 350 employees were able to toast the past winter season together while the sun was fading behind the mountain peaks. After dessert, the best four teams were chosen at the award ceremony and presented with great prizes. Afterwards, we took the gondola down to the valley, where we celebrated into the night.
A big thank you to all
Many thanks to everyone who made the evening such a success. Especially the LAAX School Team, the GALAAXY Team, the organisers of the People & Culture Team, the MICE Team and the railway employees. As always, it was a great evening with lots of great stories.